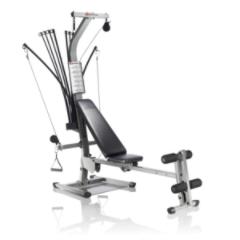 Only $649
Availability:
In Stock
USA
COMMENTS
Bowflex Home Gyms
offer amazing results without the joint stress caused by free weights. All Bowflex Home Gyms use unique Power Rod technology. Bowflex Power Rod's are flexible and durable, providing resistance for all levels of fitness. With Bowflex Power Rods, you can quickly and easily change resistance, saving time between exercises and allowing you to get maximum impact in minimum time.
The
Bowflex Classic
is the basic model geared for the budget conscious, yet it has the same Power Rod resistance as the top of the line model. The Classic compact home gym even folds up when not in use to maximize space.
The Bowflex Classic features:
210 lbs of Power Rod® Resistance

Upholstered leg extension roller cushions

Horizontal bench press

Triple function hand grips for Lat Pull Down

Built-in cardio rowing station

The Bowflex Home Gym Classic offers over 30 gym-quality exercises for the chest, shoulders, back, arms, abs, and legs.


Note: Products and services offered through this site are handled by 3rd party providers, and pricing and details are subject to change without notice. Please visit the Bowflex Classic Home Gym website for the most accurate information.
RELATED ARTICLES

Below are the most recent articles from our blog that were tagged with "Bowflex".

NEED HELP WITH THIS PRODUCT OR YOUR ORDER?
If you need assistance with your order or have questions about the
Bowflex Classic Home Gym
offer or product, your best option is to visit the vendor's official website. Most will provide a "Contact Us" or "Customer Service" link at the bottom of the page.
Your orders are processed by the vendor and not by SeenOnTVExpress.com. Since we don't service your order or handle billing, shipping, or returns, we are unable to answer questions related to these issues.
YOU MAY ALSO BE INTERESTED IN THE FOLLOWING AS SEEN ON TV PRODUCTS