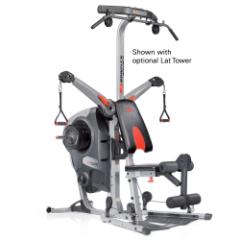 Only $2499
Availability:
In Stock
USA
COMMENTS
The
Bowflex Revolution XP
is part of the Premium Series of Bowflex Home Gyms. With over 90 exercises utilizing Bowflex's innovative SpiraFlex resistance technology, the Revolution XP offers maximum results in a space-saving design. The small but mighty Bowflex Revlolution XP fits in a 4x5 space—perfect for apartments, lofts, condos, and small rooms.
Bowflex's groundbreaking SpiraFlex and Freedom Arms technology provide smooth, consistent resistance through the entire range of motion of each exercise. This quality resistance mimics the benefits of free weights in building lean muscle.
The Bowflex Revolution XP features:
SpiraFlex plates for smooth resistance

Freedom Arms variable independent pulleys

200 pounds resistance

Over 90 exercises

Compact design

Optional lat tower

Optional ab back pad

Optional 80 pound resistance upgrade


Note: Products and services offered through this site are handled by 3rd party providers, and pricing and details are subject to change without notice. Please visit the Bowflex Revolution Xp website for the most accurate information.
RELATED ARTICLES

Below are the most recent articles from our blog that were tagged with "Bowflex".

NEED HELP WITH THIS PRODUCT OR YOUR ORDER?
If you need assistance with your order or have questions about the
Bowflex Revolution Xp
offer or product, your best option is to visit the vendor's official website. Most will provide a "Contact Us" or "Customer Service" link at the bottom of the page.
Your orders are processed by the vendor and not by SeenOnTVExpress.com. Since we don't service your order or handle billing, shipping, or returns, we are unable to answer questions related to these issues.
YOU MAY ALSO BE INTERESTED IN THE FOLLOWING AS SEEN ON TV PRODUCTS